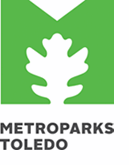 The Middlegrounds is part of a comprehensive downtown area where the Maumee River, Swan Creek, a metro park, transportation and a Fortune 500 company come together. Waterfront views frame this area south of downtown's core with Owens Corning as the anchor.
Home to Toledo's Amtrak and Greyhound stations, Middlegrounds connects Toledo to the entire country. It's fitting that the Metroparks of Toledo built a 28-acre greenspace on reclaimed riverfront property. As visitors step off their train or bus and make their way to into the city, they are greeted by a peaceful 1.5-mile walk/bike path that frames a perfect view of the Maumee River and gives a subtle nod to a sustainable future.
In 2015, the Middle Grounds District Task Force championed the Middle Grounds Plan.