FAQs
1. Where are Outdoor Refreshment Areas in Toledo? What are their hours?
Toledo has two Outdoor Refreshment Areas: DORA in the Central, Warehouse District, riverfront and Vistula area and the ORA along Adams Street in the Uptown District. The two do not overlap and operate independently. Refer to the map above.
House are noon – 1:00 a.m., daily.
2. Can I walk anywhere with my DORA cup?
No, you must stay within the DORA boundaries. Leaving the DORA with an alcoholic beverage breaks State of Ohio and City of Toledo open containers laws. DORA cups may not be taken on to boats or docks.
3. Can I take my DORA cup to the Adams St. Outdoor Refreshment Area (and vice versa)?
You cannot carry a cup between the DORA and Adams St. Outdoor Refreshment Area. Cups must be thrown away at the boundaries of the districts in which they were purchased.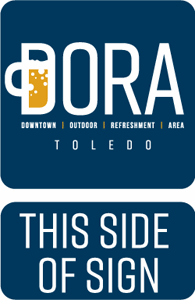 4. Can I take my DORA cup back inside the establishment in which it was purchased?
No, once a DORA cup has left a business, it must be consumed before you enter any establishment other than a residence. This includes reentering the business in which it was purchased or entering a new business.
5. Can I take an empty DORA cup into a business so I can reuse it?
No, you must throw away a DORA cup before entering any business.
6. What types of alcoholic beverage can I have in my DORA cup?
Beer, wine, and liquor are all allowable drinks in DORA cups. Drinks must be purchased inside a participating business.
7. Can I bring my own alcoholic beverage, pour it into a DORA cup, and walk around in the DORA?
No, only drinks purchased from businesses participating in the DORA are allowed. No cans, glass bottles, or outside drinks are permitted within the boundaries per State of Ohio law.
Note: All State of Ohio and City of Toledo laws regarding public intoxication, impaired driving, and open containers apply to areas both inside and outside of the DORA boundaries. Please drink responsibly.
For more information on Outdoor Refreshment Areas, please refer to Toledo Municipal Code § 331.43.
Thank you to our sponsor